For genx and boomers, reporting to someone younger may take some getting used to. Here's why your millennial manager might just be a fantastic person to work for.
It's no surprise that millennials have moved into positions of increased responsibility and authority in the workplace. And the millennial generation isn't that young anymore, with the oldest in the cohort pushing 40. Accordingly, you are more likely to find yourself reporting to a millennial manager. In fact, 62% of millennials in the workforce have at least one report according to a poll conducted by Harris Interactive.
Readjust Your Mindset
Shouldn't my boss be older than I am? Shouldn't they have worked longer than I have to get to their position of responsibility?
This is antiquated thinking from an earlier era. In today's more collaborative workforce, the ability to lead and to manage may have more to do with people skills and domain knowledge than with simple seniority.
If you are hired by or assigned to a millennial manager, look beyond your conventional criteria for what defines a worthy supervisor. Remember also that as an older professional, you don't need to be managed the way you did when you were younger. You are likely (hopefully!) more self-responsible and more mindful of what is being asked of you in your position.
This may actually mesh nicely with your millennial manager's management style. They are more likely interested in being your partner, not your task-master. So your willingness to be proactive and more engaged with your work should be a big plus.
Banish the Millennial Myths
By now, I hope we're all aware that millennials are just as serious and dedicated to their jobs as other generations. It's way too late for any of us to still hold the reverse-ageist notions that millennials are entitled to or looking for quick promotions. Actually, 73% of the millennials who responded to the Harris poll said that they have experienced burnout at work. So clearly, these people are "all-in" and actually struggling with maintaining the work-life balance that they aspire to.
Speaking of aspirations, it's also time to recognize the millennials' values-driven mindset as an important contribution to the workforce. This influence has resulted in additional introspection and reevaluation of our priorities as business leaders and managers. Most strikingly, coupled with the uncertainty surrounding the pandemic, more and more people are questioning the purpose of their jobs and looking to find work that is more fulfilling and impactful.
Millennials have led this evolution.
Millennial Manager Opportunities
If you're joining a team that is managed by a millennial, keep the following paradigms in mind. They will help you better understand how to connect and interact. In my LinkedIn Learning course, "Connecting With Your Millennial Manager" I discuss a full range of opportunities and paradigm shifts that can help you take advantage of this situation. In this article, I'll outline a few of them.
Feedback.
Millennials tend to thrive on regular and ongoing feedback. Use this to your advantage by offering to both give and receive feedback. Calibrate how and on what topics you're going to do this. You don't want to come across as being pushy or presumptuous (or arrogant). Feel them out. Use regular check-ins to carve out time to offer observations, suggestions, or strategies on work areas or projects that you're working on.
And of course take the opportunity to ask for feedback from your manager so that you can better understand what they're expecting of you, and how to partner with them to achieve the best and most productive results in your position.
This may also be an opportunity for you to support your millennial manager through your conversations. You could help them clarify their direction or the rationale behind their decision-making process.
Virtual/Hybrid Work.
Figuring out the optimal balance between onsite vs. virtual work is an ongoing challenge. This is an area where you can learn from your millennial manager. But it is also an opportunity to provide your perspective on what tasks are best performed in which context. We're all adapting and evolving our work practices and work styles to technology tools. Providing your own background on this question could be a great opportunity for you to bond with your millennial manager. They may very well be grateful for your point of view and be willing to implement some of your suggestions and proposals.
This is also an opportunity to support your millennial manager in keeping clear and focused on the work at hand, vs. spending too much time agonizing over how that work is going to get done. Use your experience and perspective to anticipate distractions and help them stay above the fray and not micro-manage.
Collaboration vs. Competition
In many ways, collaboration is the "new" competition. Traditionally, in more vertical management hierarchies, employees were more overtly competitive with one another. In a traditional binary, win-lose management mindset, this was an effective and incentivized way to generate results and profit.
However, in today's flatter, team-based structures, collaboration is a far more effective way to "compete." Your millennial manager can help you lean into this newer approach to work, and show you how to work with your colleagues instead of competing against them. It is a work paradigm that seeks to find the complementary aspects of team members and leverage their strengths. It is strikingly different from the competitive paradigm where everyone is engaged in the same activity and trying to outdo one another.
More and more decision-making is done on the team level. While that distributes responsibility perhaps more equitably, it also can make arriving at a decision more difficult. Your millennial manager may find that they are playing the role of facilitator or mediator and may find it difficult to actually make a decision. After all, that decision could rub some people the wrong way and make managing the team more difficult.
Your experience and wisdom could come in handy here, and you could be instrumental in helping your millennial manager stay focused on their goals (and the company's goals). If they can regain and maintain their perspective, it will be easier for them to make and implement better decisions.
Values-Driven Work
It's one thing to espouse the ethics and values that you want to use in your business. It can be another thing to deliver on that promise. Your millennial manager may find that while they began the job all fired up over the prospect of leading by example, the demands of the job have hollowed out the idealism that motivated them to join the team or the company in the first place.
While much has been made of millennials striving for work-life balance, the truth is that they are not that different from older generations when it comes to this struggle to "work to live" vs. "live to work."
The hybrid workplace continues to evolve, accelerated by the global impact of the pandemic. Companies and teams will experiment with how to balance personal concerns, including stress and mental health, with business demands. Your experience and perspective can provide an important reference point for your millennial manager to use in formulating their own approaches to these issues.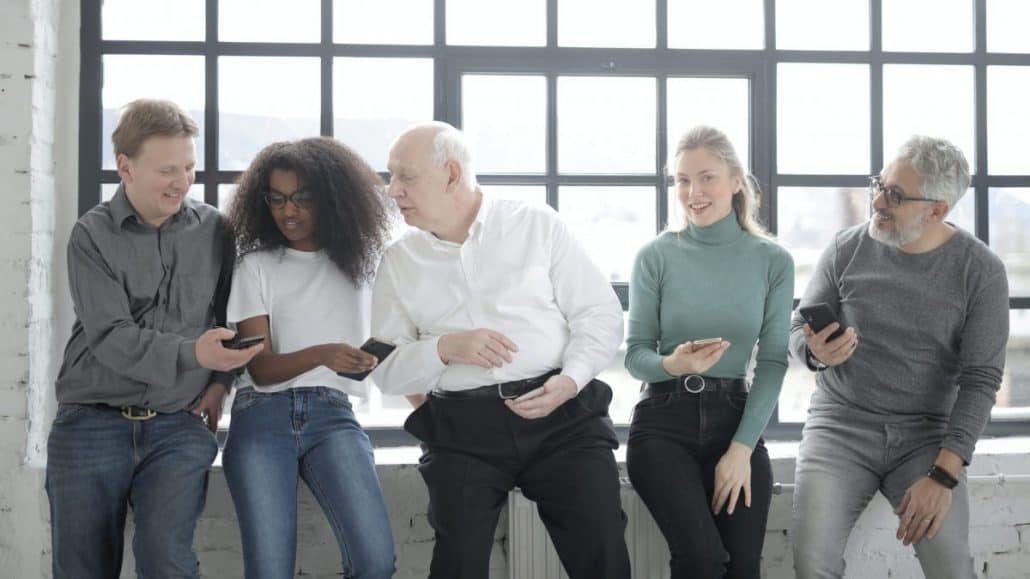 Bonding With Your Millennial Manager
Working with a younger manager puts you in a very unique position. If you have never worked for anyone younger than you, it might feel awkward at first to be taking direction from a "kid," but there are some definite advantages that you may grow to appreciate.
Mentoring is one dynamic in the relationship that you and your millennial manager may find enormously valuable – and mutually so! While there are undoubtedly many nuggets of wisdom that you can impart to them from your years of experience, they also have many fresh and innovative approaches to which they can share with you.
Align Your "Styles"
We talk a lot about the various ways and options we have to manage, work, and communicate. You and your millennial manager may initially have very different styles and it will be incumbent upon you (since they are your manager) to successfully identify and then reconcile your different approaches.
When it comes to communication, millennials are often characterized as wanting very specific information. You'll want to set very clear dates and times for your deliverables, and proposals or outlines that describe exactly what you'll be working on and what you'll be turning in.
In the hybridized work world we now operate in, also make sure to understand when and how your manager likes to communicate and interact. Some managers like to make themselves available 24/7 and expect that from their reports. Others draw clear boundaries around non-work hours so that they can spend focused time with family. Some work entirely on SMS or on Slack. Others use email. Some may even want to talk on the phone (how old school!). Regardless, you want to address this question and work out your communication protocols as a cornerstone of how you will be working together.
Be Generous
Adopt the mindset of a "servant leader." You are in your position to support your millennial manager and the goals and deliverables that they are responsible for as part of the organization's mission. Your prior years of experience may give you unique advantages as far as your subject matter expertise or the depth of your contacts database. Make your full value available to your manager. Don't hold back. Pay attention to how they're feeling. Listen carefully for opportunities to support them in their role.
If they experience you as a person with significant and actionable resources, and who is willing to share and support the team effort, that will most certainly enhance and support your relationship.
In the new collaborative structure, their success is your success.
Maybe you have previously held a similar position, so you recognize how important it is to feel that your reports have your back. Now, as a report yourself, give your millennial manager the loyalty and resourcefulness that you would have wanted and appreciated when you were in their shoes.
You probably have a wealth of resources that you could share with your millennial manager. These could include key contacts in your network, business books that have informed and inspired you, and other lessons that you've learned over the years. Without imposing or being heavy-handed (and at the appropriate moment) consider offering these assets to your manager.
Accept that this is your time to give back through your work and that your millennial manager is at the front of the line when it comes to receiving your generosity.
The Value of the Multi-generational Workforce
One of the great aspects of putting four generations together in today's workforce is the synergy of differences: experiences, attitudes, training, skills, and lifestyles.
If diversity on many levels is the goal of today's workplace, then working for a millennial manager is your opportunity to be a part of this new working paradigm. Let your years of experience get reinvigorated by your encounters with the fresh and innovative approaches that younger workers bring to the table.
Another feature of today's workforce is that it is much more entrepreneurial. Everyone, including you and your millennial manager, are going to be expected to function more proactively. In a continually changing and disrupted economy, consider thinking of your role as that of an "intrapreneur,"someone who adopts the entrepreneurial mindset in service to the organization's vision and mission.
Reporting to a millennial manager is a great way to stay up to date and keep your skill set, mindset, and attitudes up to date and ready for the future. Participating and engaging fully in your manager's vision, goals, and direction will have long-term benefits for you as you continue to grow and refine the value that you provide through your work.
Don't Wait: Reach Out!
If you are not yet working for a millennial manager, don't wait to be re-assigned or hired on their team. Start taking advantage of the different perspectives that younger managers can teach you right now. Expand your network and enter into conversations with younger professionals in your field. Reach out directly or through your current connections.
Millennials are currently the largest generation in the workforce. If you are going to continue to work and attract new opportunities to grow your career, connecting with millennial leaders and innovators should be at the top of your networking list.
Related Posts